Multi-Cell IP DECT Wireless Base Station - ideal for pairing other Yealink W80 bases
Internal ref: YEALINKW80DM
Key features
Seamless roaming and delivery
DECT radio coverage up to 50m indoors and 300m outdoors
Up to 100 parallel calls
Up to 30 base stations
Supports LDAP/Remote Phone Book
Supports XSI Directory
Opus and PoE support
Compatible with Yealink W56H and W53H (version x.83.0.20 or later)
2 years
of manufacturer warranty
Subject to manufacturer conditions
Pay in 3 interest-free payments of
See more
Need a quotation? Request your

quote

now!
Product description
Easy wireless coverage deployment service - base station
A base station that is designed to provide organisations that require wireless coverage with the full ease of deployment service. Combined with the DECT base station and DECT manager, this multi-cell system from Yealink aims to create an extremely scalable and reliable solution for organisations of any size and shape.
The system supports up to 100 mobile phones and 100 simultaneous calls, this solution not only secures one call on each phone, but also allows you to get rid of the limited wireless network that only offers coverage of a single base station. Meanwhile, the system works with the Yealink W53H and W56H mobile phones with roaming and call forwarding, enabling free mobile communication in and between each zone. Yealink W80B is modern with a compact design, with Yealink HD voice quality wrapped around full-duplex technology and Opus, which frees your ears for an elaborate audio experience.
Key benefits
Security and stability: Yealink W80B is based on DECT technology, giving you both stable calling and seamless roaming. Wireless data transmission over the air is guaranteed by DECT encryption. At the same time TLS and SRTP play a key role in secure SIP communication.
Advanced DECT Contacts: When a call is received, the receiver can obtain the caller's information, including the caller number. Better support for multiple PBX platforms makes contacts accessible from different platforms such as the Xsi directory, XML contacts. In addition, LDAP and the remote phonebook are also available on the W80B.
Efficient provisioning and unified management: The W80B inherits the powerful Yealink auto-p mechanism from the W60B that provides efficient provisioning and effortless mass deployment to be simply implemented through the Yealink Redirection and Provisioning Service (RPS). In addition, you can configure and manage the entire multi-cellular system in the DECT Manager web port, which also makes deployment, maintenance and upgrade hassle-free by saving businesses even more time and costs.
Easy set-up and deployment: In the multicast network, administrators benefit from the contactless provisioning established by the system. No problem if you are in the non-multicast network environment The wireless terminal will help you configure the system by obtaining the IP address and all in a faster and easier way.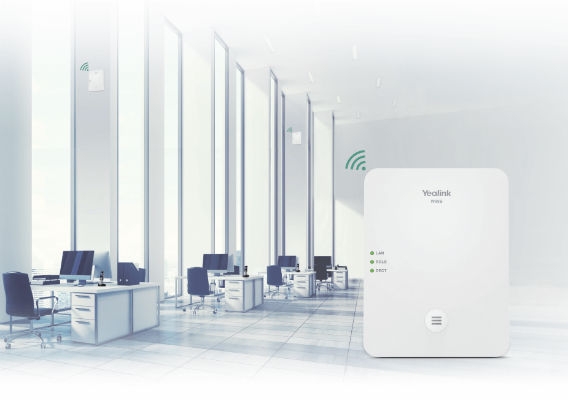 How to quickly identify the correct position for any of the Yealink W80B base stations?
With the Yealink Deployment Toolkit, you'll have no problems planning large-scale projects.
It will be your right hand!
All-in-one: Yealink W80B combines the base station and DECT Manager together, with no additional hardware. Simply switch the operating modes to change the W80B between the base station and the DECT Manager transparently and flexibly.
Features:
Synchronisation in the air
Up to 100 simultaneous calls
Up to 30 base stations
Up to 8WB (with 4 active phones) per base
Up to 8 NB calls per base
Up to 100 mobile phones
Up to 100 VoIP accounts
Up to 2 simultaneous calls per phone
Call holding, call transfer, 3-way conferencing
Switch between calls
Call waiting, mute, mute, DND
Caller ID with name and number
Anonymous call, anonymous call reject
Call Forwarding (Always/Busy/No Answer)
Speed dial, voicemail, redial
Message Waiting Indicator (MWI)
Music on hold (server-based)
Local address book for up to 100 entries per
phone
Remote phonebook/LDAP
Phonebook search/import/export
Call History (All/Missed/Placed/Received)
Reset to factory settings, restart
Keypad lock, emergency call
Broadsoft Directory, BroadSoft Call Log
BroadWorks feature key synchronisation
Shared Call Appearance (SCA)
In the box
W80DM Base
Expansion screws
Quick Start Guide
Power adapter (optional)
Files
User guide - Yealink Base DECT W80DM
Datasheet - Yealink Base DECT W80DM
Product Specs.
More Information

| | |
| --- | --- |
| Manufacturer part # | W80DM |
| EAN | 6938818305373 |
| Warranty | 2 years |