EAR DEFENDERS BUYING GUIDE
LET ONEDIRECT HELP YOU CHOOSE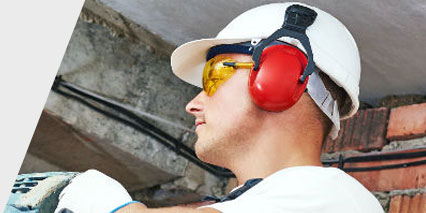 ---
With the variety of hearing protection devices on the market today, it can be difficult to select the right product for you. By using this guide, you can be safe in the knowledge that you are making an informed decision when purchasing.

Our selection ranges from basic ear muffs to sophisticated hearing protection with active listening, integrated microphones and even built-in two-way radios, to keep workers' ears safe while satisfying their communications needs.
---
Why use ear defenders?
Protection
Exposure to loud noise can cause irreversible damage to your hearing. This damage can be sudden or it can develop over a long period of time; it is important is that once damage to your ears occurs, there is no cure. Protect your hearing in the workplace!
VIEW MORE
Better Communication
Certain devices come with built-in radios or headsets/microphones; these are crucial for effective communication in environments with high levels of noise, without risking damage to your hearing.
VIEW MORE
---
What type of hearing protection should I purchase?
The ideal product if you work in an environment where the noise level is constantly above 80dB, hence requiring protection at all times. These ear defenders block out all loud sounds, but make conversations difficult.
VIEW MORE
These devices are perfect for use in a very noisy environment, yet also remain aware of your surroundings (conversations, alarms etc.). Level dependent or 'active listening' ear defenders filter loud sounds but amplify quiet sounds.
VIEW MORE
You work in a loud environment, but staying in touch is vital; as such, these ear defenders can be paired with mobiles or two way radios. In addition, some ear defender headsets are also level dependent, allowing you to adjust the levels of sounds that reach your ears.
VIEW MORE
An ideal solution if you need to communicate in extremely noisy environments. These devices are very useful for people who need to talk with their hands free. Some models also have Bluetooth; you can pair them with your mobile, and switch between mobile calls and radio conversations.
VIEW MORE
---
Additional factors to consider
Once you know which level of protection you need, make sure that you choose a headset that you or your staff will find comfortable to wear. This can be an issue with people who have long hair or wear glasses.
VIEW MORE
You also need to ensure that the model you choose is compatible with other protective equipment, such as visors and hard hats. Most models come in neckband versions and hard hat versions that slot onto helmets.
VIEW MORE
---
What accessories are available?
Adapters enable PTT and allow you to communicate between your headset and radio devices. They can be used with ease and even while wearing gloves. When buying an adapter, it is important to choose an adapter that is compatible with your headset and radio.
VIEW MORE
It is important to take care of your headset; disposable hygiene pads, wind screen protectors and hygiene kits are available to help you to do so. There is also a headset bag that includes a strap and padded sides to protect your device when not in use.
VIEW MORE
---