Adaptable and portable conference system for meeting rooms
Key features
Compact and flexible wireless audio conferencing system

Bluetooth

Brings together callers from different platforms

Multi-connected speakerphone PC / MAC / Smartphone / USB dongle

1-button conference with voice assistant of your choice

Smart microphones with 360 ° voice isolation

Multimedia and voice optimized HD speakers
EAN:

5714708000037

Manufacturer part #:

1000202

Internal ref:

SESEXPAND80
---
In stock.
Subject to manufacturer conditions
2 years standard warranty
Need a quotation? Request your quote now!
Product description
Premium wireless conference system for meeting rooms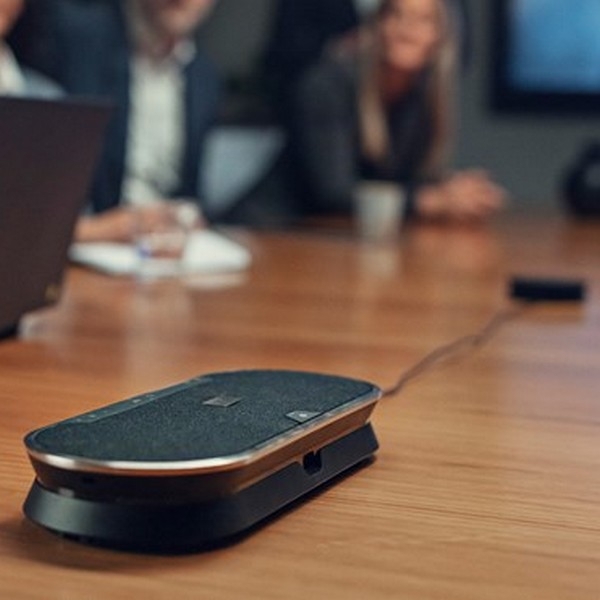 The Expand 80 conference phone is a complete, lightweight and easy-to-use audio conferencing system. It is ideally suited for meeting rooms and can be set up in seconds to quickly start a conference. Compact and portable, it goes with you everywhere to ensure dynamic and efficient meetings in all environments.
An extensible multi-platform system



The Expand 80 system can be connected via USB-C and USB-A wired. It can also be paired via Bluetooth quickly and efficiently. A USB-A dongle is also available for wireless connection through a device that does not have a built-in remote connection.
These options allow you to use any conference platform according to your needs, whether via PC, MAC, Smartphone or tablet. It is also compatible with all softphones currently on the market. The system automatically merges calls from different devices for a smooth and efficient conference.
Effective for up to 8 people, the Expand 80 can be added up to two remote wired microphones to extend the range of voice pickup. It can perfectly include up to 32 people around a meeting table equipped with its two microphones (optional).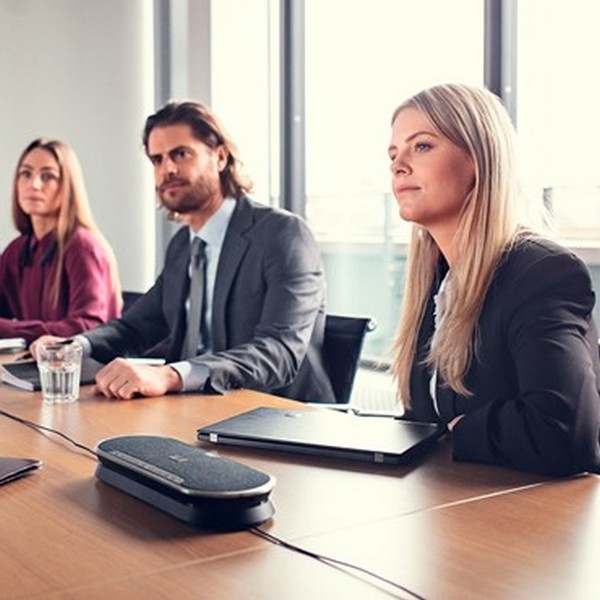 Easy to install and use
The EPOS Expand 80 is a compact and portable system, its wireless use allows you to take it anywhere according to your needs.
You can install it in one room or another without worrying about the environment, no need to wait for a meeting room to become available!
To start a conference, nothing could be simpler, you just need to connect your device to the Expand 80 with the appropriate means.
You can then start your conference with a single touch via the application of your choice or use a voice assistant.
All the controls are represented on the device and indicated by LEDs for quick and clear handling of the functions of the Expand 80 (mute mode, volume, Bluetooth, activity, etc.), the speakerphone is intuitive and quick to use. use so you can focus on your meeting.
EPOS quality
With its 6 omnidirectional microphones with automatic beamforming, you are assured that your voice will be transmitted in all its quality to your interlocutors. Indeed, the " EPOS Voice " technology allows to isolate the origin of the sounds and eliminates with an advanced algorithm the parasitic noises for an experience close to a real conversation.
The HD audio quality of the Expand 80 is also reflected in its ultra-low distortion speaker with dynamic equalizer and automatic bass enhancement. No need to manually adjust your speakerphone, you will always hear perfectly your interlocutors, no matter where you are in the meeting room.
The sophisticated Scandinavian design of the Expand 80 allows it to visually blend into any environment. Its Made in Scandinavia quality ensures it has an ultra-long lifespan and use, to accompany you when you really need it!
Features:
Compact modular portable speakerphone

Meeting up to 32 people (with optional microphones)

Use in Bluetooth or USB-C / USB-A

Bluetooth 5.0

Bluetooth range: up to 30 meters

6 omnidirectional microphones with Epos Voice technology

360 ° coverage

Cancellation of background noise, echo suppression

LED indicators for volume / mute mode and Bluetooth activation

Weight: 980 grams

Dimensions: 315. 6 x 118.6 x 46.1 mm

2 years warranty
In the box
1 x Speakerphone

1 x USB-C cable

1 x USB-C / USB-A Adapter

1 x User manual
Files
User Guide - EPOS - Expand 80 (EN)
Datasheet - EPOS - Expand 80 (EN)
Product Specs.
More Information

| | |
| --- | --- |
| Warranty | 2 years |
| Connects to | Connects to PC via USB |
| Working environment | Average room |
| Number participants | Up to 12 participants |
| Wireless | Wireless |
| Expandable | Expandable |
| Portable speakerphone | With portable speakerphones |
| Telephone keypad | Without telephone keypad |
| Screen | Without screen |
| Wireless technology | Bluetooth wireless technology |
| Microphone Coverage | 360° microphone coverage |
| Built-in microphones | 4 microphones |
| Refurb | Not refurbished |
| Additional microphones corded | 2 add. corded microphones |
| Full Duplex | With full duplex |
| Wireless Phone compatibility | Via Bluetooth |
| Mobile compatibility | Via Bluetooth |
| PC / MAC compatible | Compatible with PC and MAC, With USB cable |
| Softphone compatibility | Compatible with all softphones |
| Headset conectivity | Not compatible |
---