BUSINESS TELEPHONE BUYING GUIDE:

LET ONEDIRECT HELP YOU
Business telephones, or fixed telephones, are undoubtedly an office essential. With a business telephone you can store your most frequent numbers in an electronic phonebook, transfer calls quickly, host conference calls, and connect it to your headset amongst many other things.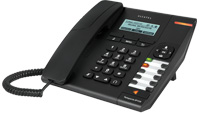 HOW TO CHOOSE YOUR BUSINESS TELEPHONE?
---
BUSINESS TELEPHONE FEATURES

Onedirect tip: Increase the number of key
functions with an expansion module

PoE (Power over Ethernet)
A technology that allows you to power certain devices, such as IP phones, over network cables rather than traditional AC power outlets. This reduces the need for multiple cables, allowing for a less cluttered, simpler set up, whilst also providing greater flexibility for organising your office space.

Number of SIP accounts
The number of SIP accounts you have dictates the number of calls you can receive at one time. Not to be confused with the number of simultaneous calls.
---

Answering Machines
Connect an answering machine to take messages in your absence (customer orders) or to broadcast an automatic message (informing attendance hours).
View answering machines