Robust and waterproof MAX430S Case
Water and dust-proof carry case with capacity of up to 20 two-way radios
Key features
Black suitcase to safely transport your devices
Different applications, ideal for walkie talkies
IP67: water and dustproof
Standard version with foam rubber at the top and 2 blocks of pre-cut foam rubber at the bottom. Other configurations available on request.
Inside dimensions: 426 (long) x 290 (high) x 159 (wide)
Outside dimensions: 464 x 366 x 176 mm
100% recyclable
Also available in orange
EAN:

N/A

Manufacturer part #:

MAX430S-N

Internal ref:

MAX430S
---
Similar products
Call us for availability
Ref: MAX505S
Details
Your professional and sturdy carry case
The robust and waterproof MAX430S Case has an IP67 certified outer shell, which means it is protected against water and dust. The suitcase guarantees great durability and can be used for different applications, from marine use to photography, fishing, mountain activities or to transport your walkie talkies.
The inside of the suitcase is filled with foam rubber on the upper part and with pre-cut foam blocks in the bottom, so you can adapt the holes depending on the quantity and size of the devices you want to store.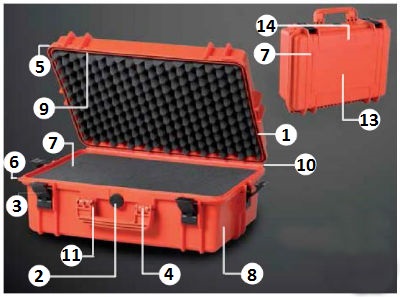 1. Cover gasket
2. Valve to automatically balance the pressure
3. Easy opening system with double lever
4. Heavy-duty handle that ensures a comfortable grip
5. Two spaces for padlock
6. Space for transport belt
7. Slots that allow to stack several suitcases
8. Thick and resistant housing
9. Additional fixing points
10. Hinge along the entire length
11. Nylon® pins resistant to corrosion
12. Standard version with foam rubber on the lid and 2 blocks of pre-cut foam on the bottom. Other configurations available upon request.
13. Slot for screen printing on the lid
14. Rectangular slot for label
In the box
Max430 carry case
pre-cut foam rubber
More Information
More Information

| | |
| --- | --- |
| Accessory type | Carry case |
Packs
Call us for availability
£515.91
£438.01
£525.61
Incl. VAT
Ref: MOXT420QMAX4BR
Call us for availability
£507.91
£476.00
£571.20
Incl. VAT
Ref: MOXT460QMAXDRUK
More from Maxcase
Call us for availability
Ref: MAX505S
In stock.
Ref: MAX235H105
---